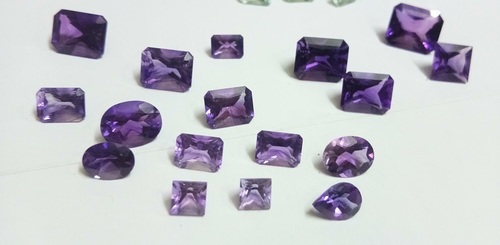 Product Description
We are into processing,supplying and exporting Amethyst Gemstone. Offered Amethyst Gemstone is darkpurple, Pink , green in colour and is believed by astrologers that it helps in improving thehealth and has great spiritual powers. These have a very smooth texture and arefinely cut by our experts. In addition, we assure to deliver a defect freerange of our products in a fixed period of time.
·Dimensionally accurate
·Fine finishing
·Durable shine
· ·All calibrated and free sizes available as per customer's requirementand specification.
·Fancy Shapes Available with fancy cutting
We Supply Beads also in allshapes and sizes including fancy shapes
In Calibratedsize we offer Oval, Pear and octagon – 4x3, 5x3, 5x4, 6x4, 7x5, 8x6, 9 x7 and10x8 mm
In round,Heart , trillion and Square we offer – 1.5mm, 2mm, 2.5 mm, 3.0 mm, 3.5 mm, and4.0 mm
Contact Us
House No. 7, Kama House Civil Lines, Ajmer Road, Jaipur, Rajasthan, 302006, India
Phone :91-141-4002274